Haeundae Paik Hospital Comprehensive Examination Center is based on the accumulated experience of Inje University Paik Hospital. In an optimal environment, excellent medical staff and state-of-the-art medical equipment provide the best medical service provide.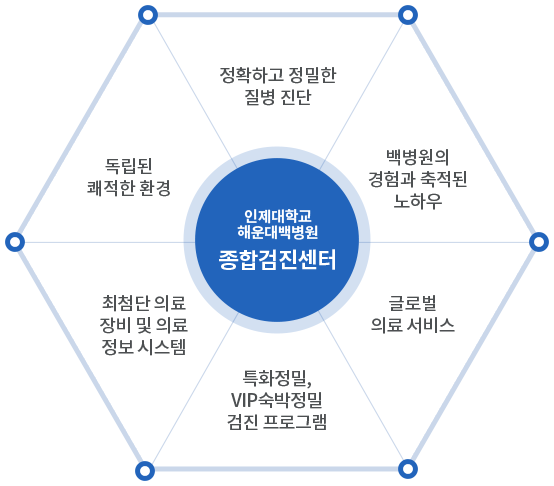 Accurate and precise
disease diagnosis
A lifelong health care partner for customers and their loved ones, tailored to their lifestyle We operate a professional and systematic comprehensive health checkup program, Specialized in customized check-up (by disease, age, organ) and accommodation check-up program for VIP customers You can receive it through 1:1 consultation with a doctor.
Global Healthcare
service
Resolving language barriers for foreign examinees and providing world-class medical care service is available.
State-of-the-art medical equipment
and medical information
system
Haeundae Paik Hospital, Korea's first high-resolution computed tomography (Discovery CT750 HD), High-speed computed tomography (Aquilion ONE) and high magnetic field
Tesla magnetic resonance imaging device (Philips Achieva MR 3.0T), PET-CT (Biograph) 64), the third-generation robotic surgical instrument Da Vinci S, etc.
By introducing the latest medical equipment, we aim to become a first-class hospital equipped with a Northeast Asian medical hub.
In the comprehensive examination center, medical image information system (PACS), prescription delivery system (OCS), electronic medical record (EMR), clinical information system (LIS), etc.
Equipped with a state-of-the-art medical information system, we provide the best medical services by performing high-precision tests.
Specialized precision,
VIP Accommodation Precision
screening program
We operate specialized and precise health checkups tailored to each disease and individual characteristics, and operate a high-quality precision health checkup (gold, silver) and VIP accommodation precision health checkup program conducted every day. The VIP Accommodation Precision Health Checkup is operated as a high-precision health checkup program that allows you to have a comfortable rest in a dedicated ward for VIPs and check your overall health.
검진 후 사후관리
After a comprehensive health checkup, prompt and systematic medical treatment (outpatient, hospitalization) is implemented for treatment and treatment, and a dedicated medical team for lifestyle improvement provides customized services.